Host
Paul Costabile
Announcer
John Cramer
Broadcast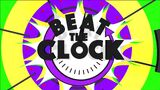 Universal Kids: 2/6/2018-present
Packager
Fremantlemedia North America
This is chronicling the new 2018 version of Beat the Clock.
Unlike previous versions, this version will have kids playing the game along with adults.
Game format
Edit
Two teams of two kids (sometimes one kid and his/her adult relative) (one dressed in purple and the other dressed in green) in a mad race against time filled with zany stunts & challenges. They'll be playing three rounds of stunts. The first round is worth $100/stunt and the second round is worth $150/stunt. The third and final round is a head-to-head challenge for $300 for a possible grand total of $550. Both teams get to keep the cash, but the team with the most money at the end of round three wins the game and goes on the to try and Beat The Big Clock for over $2,000.
The Big Clock
Edit
The winning team has one minute (60 seconds) to complete one final four-part stunt. Each part completed is worth $250, and completing all four parts wins the team $2,000 and a $1,000 donation to their favorite charity. This makes the possible grand total for one team, $2,550.
Beat the Clock (1950–1961 Version)
Beat the Clock (1969–1974 Version)
Beat the Clock (1979–1980 Version)
Beat the Clock (2002–2003 Version)