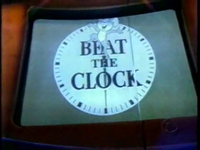 In 2006, CBS presented a special seven episode summer celebrity filled game show tournament called Gameshow Marathon. The show was based on the UK special of the same name hosted by Ant & Dec in 2005 and later Vernon Kay in 2007. This American version was hosted by talk show hostess Ricki Lake. Gameshow Marathon was a seven show special consisting of classic game shows and Beat The Clock was the third to be played. In addition, some of the models from The Price is Right appeared as models on this episode.
This was based on the 1950's version. Each player brought along a teammate to assist. Also, all the contestants were kept sequestered backstage so they didn't know what stunt they would play until they played it.
Two teams would face the same stunt which was used in the original, those doing it in the fastest times won a prize package and faced off in a Head-To-Head stunt to determine a winner. That person won another prize package (that winner's prizes went to a home viewer), and they then played a Bonus Stunt for a car.
Paige Davis won this round, and a total of $67,603 in prizes for a home viewer, including a Chrysler Crossfire SRT-6 Roadster.
Note: Kathy tried to take the seat in Finalist's Row away from Paige.
Trivia Fact and Play-at-Home Question
Edit